Child Outcomes Summary (COS) Process
The Child Outcomes Summary (COS) summarizes information on a child's functioning in each of the three child outcome areas using a 7-point scale (2017). With the COS process, a team of individuals who are familiar with a child (including parents) can consider multiple sources of information about his/her functioning, including parent/provider observation and results from direct assessment.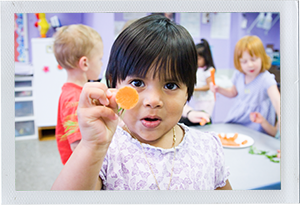 Additionally, the COS process allows early intervention and early childhood special education programs to synthesize information about children across different assessment tools to produce data that can be summarized across programs in the state, as well as across states for a national picture. The ECTA Center developed a print resource providing an Overview of the COS Process (2017).
---
COS Process Online Module: Collecting & Using Data to Improve Programs
The ECTA Center and DaSy Center developed an online learning module that provides key information about the COS process, and the practices that contribute to consistent and meaningful COS decision-making. Over the course of multiple sessions, participants learn about:
why child outcomes data are collected;
the key features of the COS process;
the essential knowledge needed to complete the COS process;
how the three child outcomes are measured through the process;
how to identify accurate COS ratings using a team-based process;
the importance of comparing children's current functional performance to age-expected functioning;
when and how to measure progress in the three child outcome areas; and
how to document ratings and evidence to support those ratings in COS documentation.
Regiser for Module Access
After registering for the module, you will be automatically redirected to it. The module is self-paced, so you can access it as many times as you need to. For additional training materials related to the COS process, see our COS Professional Development Resources.
---
Converting COS Data to OSEP Progress Categories/Summary Statements
Many states use the COS process to collect child outcomes data for federal reporting purposes. ECTA DaSy developed Interactive Guide to Converting COS Data to OSEP Progress Categories/Summary Statements that explains how the data obtained from the COS process is converted to the child outcomes data that states report annually to the federal government.