Part C of IDEA
The Program for Infants and Toddlers with Disabilities (Part C of IDEA) is a federal grant program that assists states in operating a comprehensive statewide program of early intervention services for infants and toddlers with disabilities, ages birth through age 2 years, and their families.
On This Page
---
Overview
Congress established this program in 1986 in recognition of "an urgent and substantial need" to:
enhance the development of infants and toddlers with disabilities;
reduce educational costs by minimizing the need for special education through early intervention;
minimize the likelihood of institutionalization, and maximize independent living; and,
enhance the capacity of families to meet their child's needs.
In order for a state to participate in the program it must assure that early intervention will be available to every eligible child and its family. Also, the governor must designate a lead agency to receive the grant and administer the program, and appoint an Interagency Coordinating Council (ICC), including parents of young children with disabilities, to advise and assist the lead agency. Currently, all states and eligible territories are participating in the Part C program. Annual funding to each state is based upon census figures of the number of children, birth through 2, in the general population.
---
Part C Contacts
---
National Reports on the Implementation of Part C of IDEA
---
Tools
These tools on the Value of Part C from the Infant & Toddler Coordinators Association (ITCA) help Part C programs use data and infographics to tell their stories clearly and concisely to key stakeholders including state leaders, families, providers and other community partners.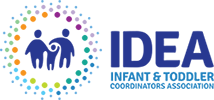 ---
Early Intervention Data Infographic Template
This template offers a colorful format to present program data concisely and clearly. Data points include the number of children referred and served, increase in the number of children served over a five-year period, breakdown of referral sources, family outcomes, and planned services.
---
Operation of an EI Program
This template showcases how programs operate to fully support its children and families. Services highlighted include audiology, service coordination, transportation and social work and associated supports include accountability and quality of services and providers.
---
Value of Part C Infographic Template
Positive results for children and reduction in the need for special education are among the top 5 Reasons Why Early Intervention is Valuable. Programs can customize the infographic by adding their logo, a quote, or an overview of program specific information.
---