Quality Rating and Improvement Systems
---
Increasingly, states are developing Quality Rating and Improvement Systems (QRIS), also referred to as Tiered Quality Rating and Improvement Systems (TQRIS) or Quality Rating Systems (QRS), to assess and improve the quality of early care and education programs for young children, increase parents' understanding of and access to quality child care, and enhance the professional development of early care and education providers.
See also: eNotes on QRIS and Early Childhood Data Sources: Quality Rating and Improvement Systems (QRIS)
---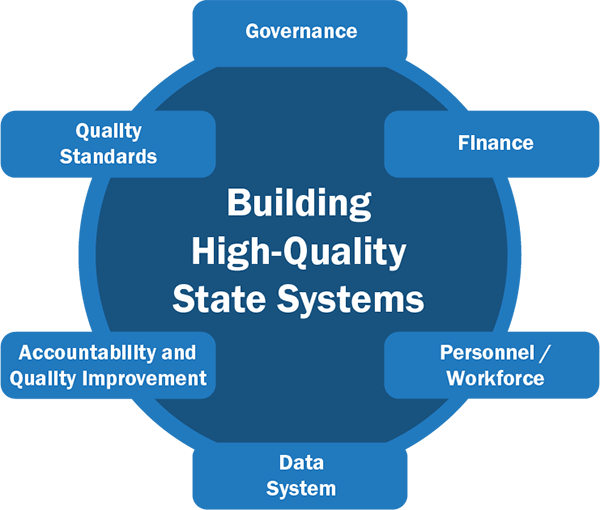 The Quality Standards component guides Part C and Section 619 Coordinators, their staff and partners in an ongoing process of evaluating the quality of their programs and services within the context of the larger early care and education community, to ensure continuous program improvement and to develop more effective, efficient systems that support enhanced child and family outcomes.
Get Started
---
The QRIS Compendium compiles the latest details on QRIS in every state, territory and region/locality in the U.S.; provides answers to common questions; and allows users to compare data across different states. It is meant to help promote thoughtful design, analysis and ongoing improvement in early care and education systems building.
---
List of QRIS state contacts
Library of State Resources and Profiles includes training guides, forms, and TA materials developed by individual states for their QRIS.
---
A table with excerpts from the "Compendium of Quality Rating Systems and Evaluations," starting on page 31 of this ECTA Center publication, provides examples of state QRISs with specific indicators related to the inclusion of children with special needs in early care and education settings. Some of these indicators include, for example: specialized training for staff, using screening procedures and making referrals as needed, documenting activities and instruction that help to support goals in a child's Individualized Family Service Plan (IFSP) or Individualized Education Plan (IEP), integrating children with special needs with their peers, and making environmental accommodations for children with special needs.