Assistive Technology topic editor: Sue Goode
Most recent additions to this page:
Early Hearing Screening and the Use of Assistive Technology - Coffee Break Webinar Series - May is Better Hearing and Speech Month (BHSM) and the Office of Special Education Programs and the Offices of Head Start and Child Care are partnering to join the American Speech-Language-Hearing Association in celebrating this year's theme – "Communication Takes Care." Join the BHSM Coffee Break Webinar series, May 16-20, 2016 from 2:00 – 2:15 pm ET to learn more about hearing screening and the use of assistive technology to support young children with disabilities and their families. No registration is required to join the webinars.
Center on Technology and Disability (CTD) - This Center is designed to increase the capacity of families and providers to advocate for, acquire, and implement effective assistive and instructional technology practices, devices, and services. See the Early Childhood section of their library and their YouTube channel.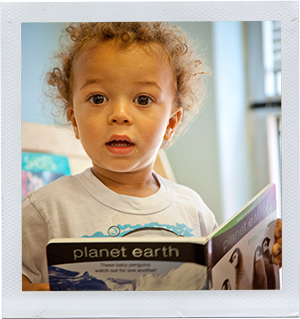 Children with disabilities have the right to participate in everyday activities with their typically developing peers. The appropriate use of assistive technology (AT) in the classroom or playgroup, at home, and in the community supports natural learning opportunities and the successful inclusion of infants, toddlers and young children with disabilities in the full array of services and settings that are available to all young children.
Links on this site are verified monthly. This page content was last reviewed on 05/06/2016 SG