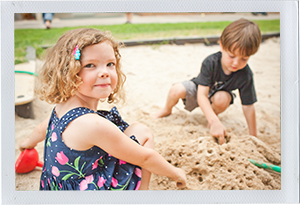 For children, the goal of early intervention and early childhood special education is to enable them to be active and successful participants during the early childhood years and in the future in a variety of settings – in their homes with their families, in child care, preschool or school programs, and in the community (Source:

Family and Child Outcomes for Early Intervention and Early Childhood Special Education). States collect and use data on three child outcomes to support this goal:
Children have positive social-emotional skills (including social relationships).
Children acquire and use knowledge and skills (including early language/communication [and early literacy]).
Children use of appropriate behaviors to meet their needs.
The ECO Center (now a part of the ECTA Center) developed a print resource describing the

Three Child Outcomes and collaboratively developed a video overview.
Federal Reporting on Child Outcomes
As part of the State Performance Plan/Annual Performance Report (SPP/APR), states are required to report on the percent of infants and toddlers with Individualized Family Service Plans (IFSPs) or preschool-age children with Individualized Education Plans (IEPs) who demonstrate improved child outcomes. This is SPP/APR Indicator 3 for Part C and Indicator 7 for Part B.
National Child Outcomes Data Analysis
Each year, the ECTA Center analyzes and reports a national summary of child outcomes data for Part C and Part B.
Provided below are resources on the methods and processes used to calculate national child outcomes data.
State Approaches to Child Outcomes Measurement
States use several different approaches to measure child outcomes, as illustrated in the maps provided below:
Most states use the Child Outcomes Summary Process, a team process for summarizing information about a child's functioning across multiples sources.