Part C State General Supervision Systems
The primary focus of state monitoring activities is on improving educational results and functional outcomes for all children with disabilities; and ensuring that states meet the program requirements of IDEA, with a particular emphasis on those requirements that are most closely related to improving educational results for children with disabilities. As a result, states must have in place a general supervision system that monitors implementation of IDEA by early intervention programs (whether or not they receive Part C funds), and local education agencies statewide. [IDEA 2004, Section 616(a)(2)]
Overall, each state's General Supervision System must include multiple methods (or components) to ensure implementation of IDEA 2004, identify and correct noncompliance, facilitate improvement, and support practices that improve results and functional outcomes for children and families.
Core Components of an Effective State General Supervision System
These core components were identified by The National Center for Special Education Accountability Monitoring (NCSEAM) in collaboration with the regional resource centers, the Federal Regional Resource Center, the National Early Childhood Technical Assistance Center, and representatives from state agencies, the National Association of State Directors in Special Education, and the IDEA Infant and Toddlers Coordinators Association in 2007. The core components are outlined in the following documents:
Data Resources
A variety of

data resources are available to support the collection, analyses, and reporting of data to document results for children and families, for use in monitoring programs, and for program improvement.
Streamlining and Integrating Part C General Supervision Activities: Monitoring and Program Improvement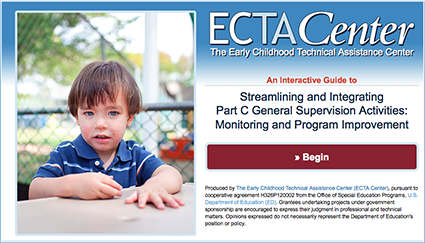 Streaming Presentation:

An Interactive Guide to Streamlining and Integrating Part C General Supervision Activities (10:56 minutes)
There are three ways to use these resources and framework to identify where and how monitoring and program improvement activities can be streamlined and better integrated to meet both state needs and national reporting requirements:
Step 1 Identify an Issue
Step 2 Determine the Extent/Level of the Issue
Step 3 Determine the Cause of the Issue
Step 4 Assign Accountability for the Issue and Its Resolution
Step 5 Ensure and Verify Resolution of the Issue
Step 6 Follow Up on Resolution of the Issue