ECTA Staff who contributed to the development of these resources: Barbara Smith, Evelyn Shaw, Kathy Whaley and Mary Peters; and former staff Joicey Hurth, Lynda Pletcher, and Glen Dunlap.
Overview
Improving child and family outcomes is a cornerstone of early childhood education and in particular the IDEA Part C and Part B, Section 619 Preschool programs. To improve outcomes, an evidence-based practice or innovation must be selected and the process of implementing that practice or innovation must be effective. Implementation science is the study of the processes needed to bring new practices into widespread use.
This guide is based on a

review of the literature of implementation science (Fixsen, Naoom, Blase, Friedman, & Wallace, 2005) and the collective experiences of federally funded national centers in conducting state-wide system change initiatives. These centers include the National Early Childhood Technical Assistance Center (NECTAC, now the ECTA Center), Technical Assistance Center on Social Emotional Intervention for Young Children (TACSEI), Center on the Social and Emotional Foundations for Early Learning (CSEFEL), National Implementation Research Network (NIRN) and the State Implementation of Scaling-Up Evidence-based Practices (SISEP). More resources on Implementation Science can be found at the SISEP and NIRN Active Implementation Hub, including the 5-minute Quick Start.
ECTA Center was assisted in the development of the resources on this page by a

Technical Work Group.
Online Guide to the Implementation Process: Stages, Steps and Activities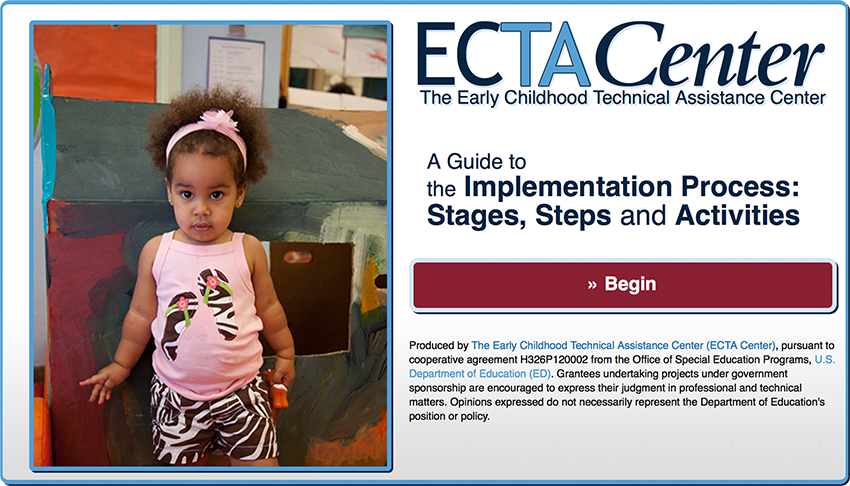 This Online Guide includes highlighted terms which link to an online Glossary Terms of definitions. You may also download a print-friendly edition of

A Guide to the Implementation Process: Stages, Steps and Activities