Crystal Gateway Marriott Hotel
Arlington, Virginia
December 5 - 9, 2009
Main Conference: December 7 - 9, 2009
Pre- and Post Conference Workshops & Meetings: December 5 - 6 and 9, 2009
Not Attending the Conference? Register for webcasts of Plenary sessions!
In collaboration with the Technical Assistance Coordination Center, we are offering web access to the plenary sessions on Monday and Tuesday mornings. Individuals may register for one or more sessions.
Orientation to the Conference
First time attending the conference? View our Orientation Presentation for first time attendees. Information is tailored for Part C and Section 619 Coordinators, parent representatives, and OSEP-funded projects. The presentation will begin immediately when you click on the link above. If it does not, or if you are inexperienced with viewing this format, please see our multimedia help page. After viewing the Orientation Presentation, please take a minute to complete our evaluation. Your feedback would be appreciated.
Conference Dates and Times
The 2009 OSEP National Early Childhood Conference will be held on Monday, December 7 through Wednesday, December 9, 2009.
On Saturday, December 5, there will be two pre-conference workshops on Early Childhood Outcomes.
On Sunday, December 6, there will be meetings for State ICC chairs, parents and staff; Section 619 Coordinators and Part C Coordinators and staff.
On Wednesday afternoon, December 9, there will be a meeting for representatives from the Pacific jurisdictions, OSEP and TA providers to the Pacific region.
Conference Goals
To gain knowledge and appreciation of the current requirements under IDEA for Part C and Part B Section 619.
To gain a better understanding of research findings and the use of successful evidence based practices related to U.S. Department of Education goals and initiatives.
To acquire resources that will support the use of data to improve practice and accountability in the implementation of the IDEA.
To acquire strategies to build and expand relationships and collaborative partnerships with others in policy development and systems improvement at federal, state and local levels.
To acquire strategies to inform and support family members in leadership roles to enable them to strengthen and improve service systems and outcomes for infants, toddlers, and preschool aged children with special needs.
To gain a renewed sense of confidence, energy and achievement for continued work on behalf of young children with disabilities and other special needs and their families.
Who Should Attend?
The conference is intended for a variety of audiences involved in planning and delivering services to young children with special needs and their families including:
State Section 619 Coordinators and staff
State Part C Coordinators and staff including CSPD Coordinators
State ICC chairs, parents and staff
Early Childhood Projects staff
National/regional/state/ technical assistance providers
OSEP and other federal agency staff
Parents of children with disabilities and/or special health care needs who have knowledge of IDEA and are serving in leadership positions. Examples include: parent representatives on local and state Interagency Coordinating Councils, Special Education Advisory Panels or other advisory boards and representatives form Parent Training Information Centers (PTIs), Community Parent Resource Centers (CPRCs), and Regional Parent Technical Assistance Centers (PTACs).
Partners from the early childhood community, including child care, Early Head Start, Maternal and Child Health, Social Services, etc.
Registration
Registration Fee
: $300.00 if paid by November 13, 2009; $350.00 after November 13, 2009 and for payment on-site.
Additional fees will be charged for select pre- and post-conference activities and display space.
You can
register online
today! Already registered?
Pay now
!
Sponsorship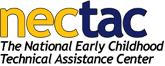 This conference is sponsored by the US Department of Education, Office of Special Programs (OSEP). It is being planned by the National Early Childhood Technical Assistance Center (NECTAC) in collaboration with a conference planning committee representing diverse interests and perspectives.