Adobe Presenter Help
Adobe Presenter allows us to place recorded presentations on-line with audio, animation, Web links, file attachments and more into easy-to-use pages on our Web site. We hope you will find it a useful tool for receiving technical assistance. Presenter requires that your browser have the Macromedia Flash plugin installed. For more information on Flash, visit our plugin help page.
When a Presenter window is opened, the first slide opens and automatically begins playing audio. Long presentations usually have a "table of contents" slide that allows the user to skip to a desired section of the presentation if they wish.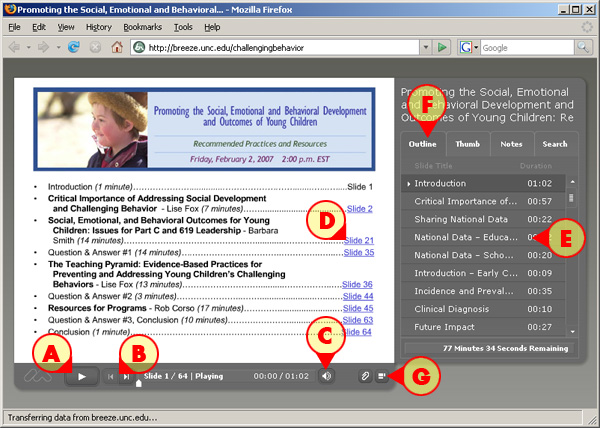 Screenshot of Presenterin a Browser Window
A. Play/Pause Button allows the viewer to pause or resume playing the presentation at any time.
B. Next/Previous Slide Button allows the viewer to skip or revisit a slide in the presentation.
C. Volume Control allows the viewer turn the volume of the presentation up, down or even off if desired.
D. Links in the Table of Contents allow the viewer to skip directly to different parts within the presentation.
E. Navigation Panel allows the viewer to skip to a slide based on the slide title or other critera (see F).
F. Navigation Options include viewing slides by slide title (Outline), thumbnail (Thumb), view slide notes added by the presenter if there are any (Notes), or even search the presentation for keywords (Search).
G. View Options Button allows the user to open or close the Navigation Panel for optimizing visual space.