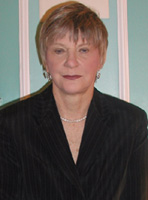 Geneva Woodruff
About the Presenter
Geneva Woodruff
Concord Family and Youth Services
25 Monmouth Court
Brookline, MA 02446
E-mail:
genevawoodruff@cs.com
Telephone: 617-232-0600
Professional Positions
Director of National Center for Young Children Environmentally At-Risk and Their Families
Director of Project Transformation: A USDOE, OSEP-funded outreach program for children ages birth to three and their families from high-risk environments
Director of Project Mastery: A USDOE, OSEP-funded outreach program for children ages three to eight with challenging behaviors and their families

Education
Ph.D. in Early Childhood Education-Boston College
M.Ed. In Special Education/Emotionally Disturbed Children-Boston College
M.Ed. in Elementary Education-Salem State College
B.S. in Public Relations and Communications-Boston University

Experience
Dr. Woodruff has worked in the field of early intervention for the past 26 years. During that time, she has designed, implemented, and evaluated a variety of early intervention programs for some of society's most high-risk families, namely those affected by substance abuse, family violence, abuse and neglect, poverty, poor health, inadequate housing, and AIDS. Simultaneous to directing these programs, she also directed several national training and outreach projects to assist staff in programs across the country meet the basic health, educational, social and emotional needs of these children and families. Her experience and the findings from these programs serve as the basis upon which the Transformation Family Centered Project is based.
Note: This site looks better when viewed with a newer browser that supports Web standards, but it is accessible to any browser.
Return to Call 3 Call Series NECTAC