Leanora Carpio Mariano is a Developmental Specialist providing service coordination and early intervention to young children, 0-3, on the Laguna Pueblo in west central New Mexico. The Laguna Early Intervention Program is part of the state's Family Infant Toddler Program for Part C services. Leanora has worked with the program for about 4 years, and while New Mexico provides services for all eligible children in Part C, Laguna, she says, is able to be even more effective because of the enhanced funding received through the Bureau of Indian Affairs, above and beyond what it gets from the state.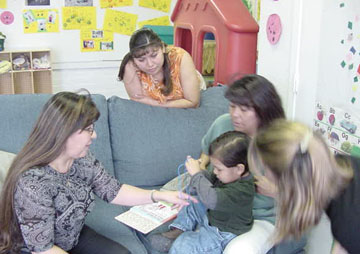 Some ways Laguna supports its early childhood efforts include:
Child Find conducted at all 6 villages on the Pueblo, with a comprehensive screen. Services are coordinated with WIC, Medicaid, and other provider agencies through this strong Child Find effort. ALL children on the Pueblo are seen.
Child Find activities include extra incentives for families and culturally unique features, such as lunch and gift bags with books, toothbrushes, stickers, cups, etc.
Parent involvement is enhanced with development of a monthly family activity calendar and training opportunities for parents.
Welcome packets and baby bags, for all new babies in the community. We make informal visits to new parents and deliver welcome gifts.
Use of a mental health consultant who is a resource for all teachers working with young children and families for strong social and emotional growth.
Public awareness for parents about ALL services available to them to enhance their child's growth and development.
Specific training for parents about specific diagnoses including autism and genetic disabilities.
Laguna does NOT use BIA funds to support direct services, but it does use the money to obtain consultation to help the staff better serve children and families. One example is a mental health consultant who is a resource for all teachers working with children and families for strong social and emotional growth.
"Families are at the top of our organizational chart," says Leanora. "We are here for the parents. Without them we have no program. They drive, I am their resource to their destination."
Barbara Bautista's son Jordan just turned three. He entered the Laguna Early Intervention Program as a two year old when he had trouble speaking.
"They work with him a lot", says Barbara. She is a strong supporter of the Pueblo's enhanced Child Find program. "Laguna really goes out and helps to get kids in the programs that best suit their needs."
Alayna Smith, Program Director, says Early Intervention and Child Find aren't the only enhanced programs at Laguna. Early Head Start and Head Start activities are well coordinated through a continuum across the Pueblo. The support through BIA funds helps make Laguna's program one of the strongest in the state.
"It is so fun. You can be confident you are doing it to the best of your ability and for the right reasons, which are Laguna children and families. I want to do this because I love it.!" Says Leanora.