Now that the child outcomes are fully integrated into your IFSP or IEP process, it may feel like the time to move on to the next project and to check this off the list as accomplished. To some extent, the really difficult work is finished, but it is critical at this point to think about keeping the integrated process effective and producing the improved outcomes for children, families, providers and programs that are just starting to emerge. Early intervention and early childhood special education is an ever evolving field - the solutions that we just put in place to create the integrated process may not be the solutions that work over time. Rather than to be in a position of reacting to needed changes or adaptations, being proactive and intentional in making updates and changes to the process will result in better outcomes.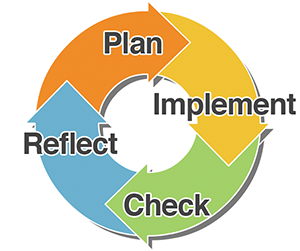 Continuous program improvement has four components:
Plan: Programs look at and decide what it is they want to do. In the instance of the integrated process, this may be tweaking the use of certain practices, developing additional training and technical assistance to support providers struggling with the use of the practices, or perhaps changing the process of IFSP or IEP team meetings to support the integrated process. The planning step must include a plan for using data that is collected through the data system, and/or include other data that will be needed to know whether the desired changes have occurred. Timelines and responsibilities need to be included here for every component of the continuous program improvement cycle.
Implement: Programs follow the plan as written and collected the data prescribed.
Check: Program staff and administrators look at data and analyze what they see.
Reflect: Program staff and administrators look at current practices and answer, "Are we where we want to be?" If not, the plan is reviewed and the improvement process continues. Hallmarks that things are going well are 1) practices are implemented with fidelity, and 2) practices are resulting in the desired changes and outcomes.
You might not always start with the same component; at some times your data (Check) might tell you something needs to change. At others, a new initiative (Plan) might create the necessity for changes in the integrated process. Additionally, these four components rarely happen in just one cycle, but rather in a continuous motion that leads to improvements over time. There is no prescription for how often continuous program improvement should be used, nor is there a specific time frame for each step in the process, so leadership may determine when it will be the most helpful to the ongoing improvement of their own programs. Engaging in this process regularly, however, will boost leadership's understanding of the strengths of a program or system and assist the leadership in proactively and intentionally address challenges with the implementation of an integrated IFSP/IEP and outcomes process.