Source: Division for Early Childhood of the Council for Exceptional Children - May 2, 2014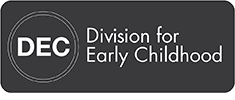 The Division for Early Childhood of the Council for Exceptional Children has released the 2014 edition of the DEC Recommended Practices in Early Intervention/Early Childhood Special Education (April 2014)
The DEC Recommended Practices Commission has completed the impressive 18 month task of drafting revisions to the Recommended Practices, securing input on the draft from key constituents (family members, practitioners, administrators, researchers, and higher education faculty) via focus groups and surveys, validating the research base, securing field validation, and finalizing the practices. ECTA Center salutes the hard work of these dedicated volunteer Commissioners and content experts in creating this touchstone resource for the field. And there is more good news to come in the way of product development to support professional development and the implementation of the practices.
The DEC Recommended Practices were developed to provide guidance to practitioners and families about the most effective ways to improve the learning outcomes and promote the development of young children, birth through five years of age, who have or are at-risk for developmental delays or disabilities. They are meant to help bridge the gap between research and practice by highlighting those practices that have been shown to result in better outcomes for young children with disabilities, their families, and the personnel who serve them.
Please hold May 27, 3 p.m. EDT for an ECTA Center release party webinar! More information will be shared under "News & Features" on the ECTA Center Web site soon.